USDA Vs. FHA Loans: Which Government Mortgage Program Is Right for You?
Many people look for mortgages that offer minimal down payments, flexible guidelines, and inexpensive payments, whether they are repeat or first-time home buyers. A comparison of USDA vs. FHA loans frequently separates two quite popular choices. But understanding your alternatives is crucial when selecting a loan package.
As their name suggests, government mortgages are protected by the government, meaning that in the event that you miss a payment on your mortgage, the government will guarantee payment to the bank or lender. This indicates that, in comparison to traditional loans, which are not guaranteed by the government, these loans frequently have more lenient qualification conditions that are generally simpler to meet.
The Fundamentals of USDA and FHA Loans
The U.S. Department of Agriculture (USDA) and the Federal Housing Administration (FHA), respectively, provide government guarantees for USDA and FHA loans. These governmental organizations don't grant you a loan directly; instead, they guarantee your lender from loss in the event of your default.
USDA and FHA loans are considered non-conforming loans and are not subject to the housing requirements set by government-sponsored organizations like Fannie Mae and Freddie Mac. Government-backed loans, like other types of loans, have specific requirements for eligibility.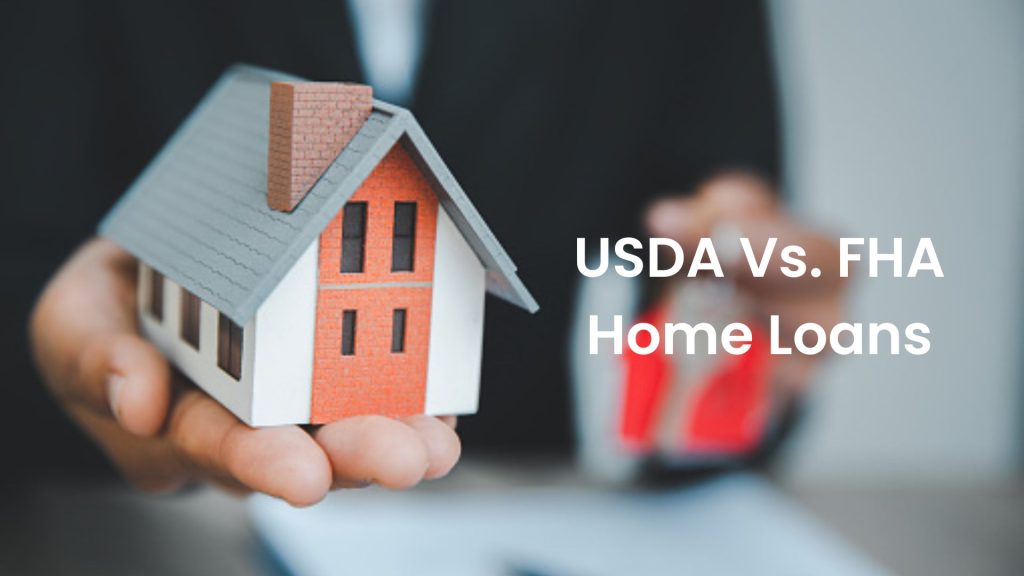 Comparison: USDA Vs. FHA Loans
You must have the necessary understanding of both loans if you're looking to compare them. For in-depth comparisons, read the article carefully.
Why Buyers Prefer USDA Loans
For rural homebuyers with zero-down payment mortgages, USDA house loans are available. The primary advantage of USDA loans is that it is only available to buyers who lack the financial means to take out a conventional mortgage in order to purchase, repair, or renovate their house. For buyers who qualify for these loans, the option of making no down payment is available.
Core Advantages Of USDA Loan
Buyers With Low To Moderate Incomes Can Apply For Loans.
The Income Cap Is Determined By The Region You Reside In And The Loan Program.
The Optimal Credit Score Is 640, Although You Might Still Get Approved With A Poor Credit Score.
Must Be A U.s. Citizen Who Resides There Permanently
Why Buyers Prefer FHA Loans
We already know that most people will select USDA if given the option. To assist buyers to qualify, FHA has a tonne of additional resources. In addition, there are income and property requirements for USDA eligibility. For these reasons, the buyer could choose FHA. Thankfully, FHA loans also offer low down payments and reasonable financing.
Core Advantages Of FHA Loan
Easier Credit Qualifications
Low FHA Loan Down Payment
More Affordable Mortgage Insurance
Higher Debt-to-Income Ratio (DTI)
Low-Interest Rates
Selecting the Government Mortgage Program That Is Ideal for You
When determining which loan program is best for you, it's important to carefully analyze a few significant differences between FHA and USDA loans. Remember that not all applicants and locations will be eligible for both loan programs.
Although both USDA and FHA loans are intended to assist persons with lower incomes in buying a home, the qualifying standards may determine which one is best for you. Moreover, These loans are available through San Antonio Mortgage, and they are simple to obtain. If you're wondering about what our experts can do and you live in San Antonio, Austin, Dallas, Houston, Texas, or any other city, come see us right now!