San Antonio Mortgage could be a solution for you if you want to buy a house with a bad credit score!
Customers looking for bad credit mortgage lenders might be surprised to learn they have a variety of choices. While those who purchase a property with exceptional credit are eligible for mortgages with the best terms, there are a number of programs and loans available for those who purchase a home with less-than-perfect credit.
San Antonio Mortgage provides conventional loans, FHA loans, VA loans, jumbo loans, and USDA loans. Choosing the right option for you is so easy here.
Can you obtain a mortgage with poor credit?
Surely it is possible today to get your loan with a poor credit limit. But first, it's important to comprehend how mortgage lenders assess credit scores and other financial data for those who are purchasing a home with bad credit. Understanding what constitutes "poor" credit is also essential.
Lenders will examine your credit reports and general financial situation when you apply for a new mortgage. When it comes to mortgage lending, having bad credit typically implies having a score that is close to the minimum allowed for a certain loan, even though precise mortgage requirements vary by lender and loan program.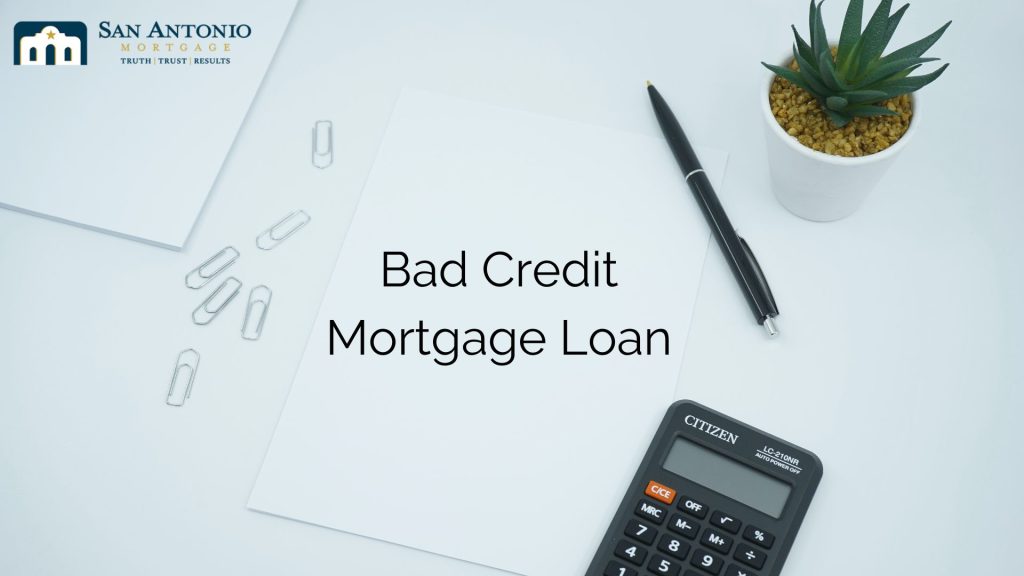 To Qualify For A Mortgage, What Credit Score Do I Need?
This is entirely dependent on the type of loan you are taking out. However, the two main loans are conventional loans and FHA house loans.
Conventional loans — loans from private mortgage lenders that are not backed by a government entity
Federal Housing Administration, or FHA loans — backed by the Federal Housing Administration(FHA) but issued by private lenders
Why Conventional loan?
Customers can apply for conventional loans with us even if their credit scores are as low as 620. Even if you have a lower credit score, getting a mortgage can be tricky, but we'll do our best.
Why FHA loan?
In this situation, if you have a basic credit score of 580, you will be able to easily obtain an FHA loan with a 3.5 percent down payment. If you have any doubts regarding your eligibility for your desired FHA loan, don't worry. By making a 10% down payment, borrowers with credit scores between 500 to 579 may still be eligible for an FHA loan.
Why San Antonio Mortgage For Your Bad Credit Mortgage?
We at San Antonio Mortgage have the understand and experience you require to investigate the various lending choices accessible. We want to make sure you choose the best option for you and your family, and we're dedicated to giving our customers mortgage services that go above and beyond their requirements. So, if you need a loan but have a bad credit score, get in touch with us.