First time home assistance requirements for 2022
To be approved for a mortgage loan, you must meet a number of criteria, which vary depending on the type of loan you seek!
As first-time home assistance, you must first understand what it means. A first-time homebuyer is someone who is purchasing a primary residence for the first time! Being a first-time buyer entitles them to special benefits such as low down payments, special grants, and assistance with closing costs, which are mostly sponsored by the state and federal governments.
Many mortgage lenders in Texas provide incentives and special loans to first-time homebuyers!
You must provide proof of at least two years and a down payment of approximately 3.5 percent, as well as a credit score of 620, in order to demonstrate your ability to pay off the mortgage payment. However, for first-time home buyers, many lenders will allow them to obtain a mortgage at a low-income level with no down payment and a credit score of around 500.
Types of Loans for First time home assistance in Texas
FHA loan: The Federal Housing Administration (FHA) is part of the United States Department of Housing and Urban Development. The FHA loan down payment is lower in this program, and qualifying is easier! The FHA loan limit requirement in 2022 for first-time homebuyers is a down payment of at least 3.5 percent with a lower credit score. This program is the best because the down payment can be as low as 3.5 percent if you have a low credit score.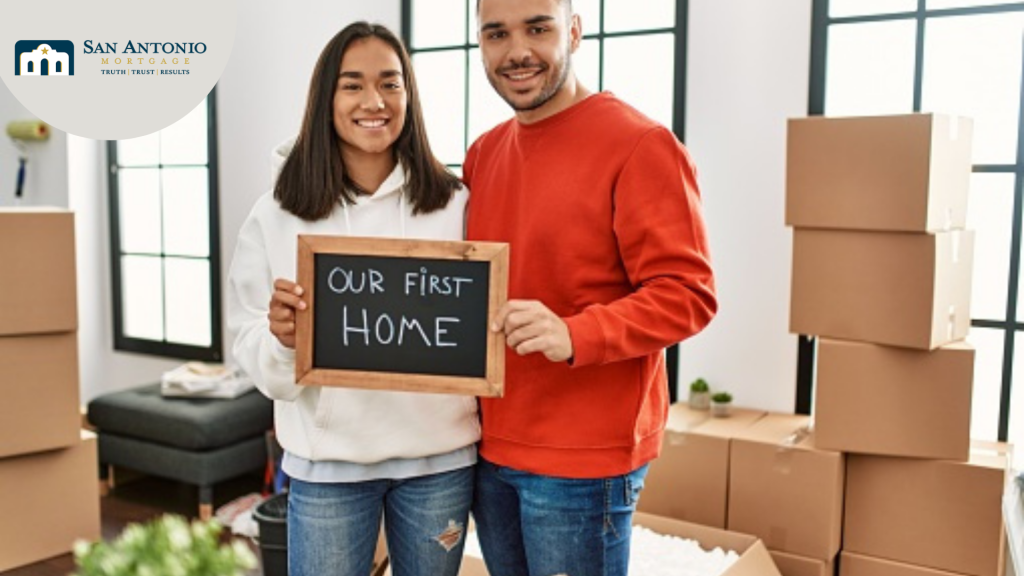 Conventional loan: Private mortgage lenders offer conventional loans, which are not insured or guaranteed by the federal government. It is classified as a fixed-rate mortgage model. It is one of the most difficult mortgage programs because it has more stringent rules such as a large down payment, a high credit score, a low DTI ratio, and the possibility of PMI requirements. If you qualify for a conventional loan, it will be less expensive than any other federally insured loan.
VA Construction loan: The U.S. Department of Veterans Affairs is guaranteeing this loan. VA does not make loans but rather guarantees mortgages made by qualified lenders. It enables veterans to obtain a mortgage with no down payment. You must first request eligibility from the VA before submitting any applications. If the request is accepted, certification is provided that can be used for the application. 
San Antonio Mortgage as your mortgage lender!
If you are first-time home assistance looking for a mortgage loan, you may be perplexed by the various financial options! You must first determine how much you can afford! It is preferable to seek financial advice from the team at San Antonio Mortgage LLC in Texas before beginning to apply! We are always available to provide additional information!